Oak Wood Doors
Our solid oak interior doors are built to last, offering both classic style and high-quality craftsmanship. Customized to your specific measurements, these doors are durable and come with a selection of practical hardware options to suit your needs.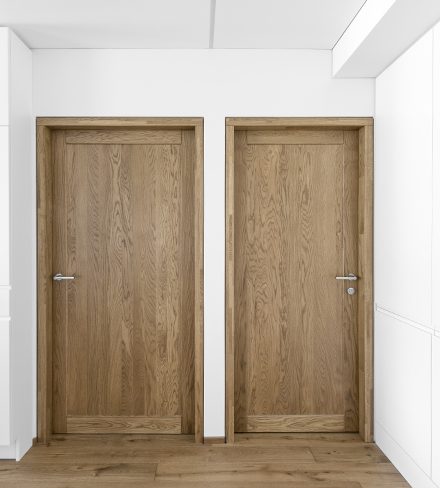 Door Designs
Our premium oak internal doors are tailor-made to your dimensions. We apply organic oil finishes sourced from the renowned brand Saicos, offering a diverse range of color selections. Each door comes equipped with the following elements and fixtures
A door panel (crafted from either engineered or finger-jointed oak)
A door frame (composed of finger-jointed oak)
Moldings (constructed from a base of finger-jointed oak)
Door hinges
A locking mechanism
All
Modern
Classic
Scandinavian
Flemish
Construction
Our oak interior doors are an engineered product, i.e. three-layer engineered door construction. What is special about such a door?
Correctly manufactured doors ensures maximum stability and perfectly retain sound;
Triple-layer construction doors with advanced symmetrical "2 x oak" or "4 x oak" construction ensures the durability of the door;
For the production of the door leaf and frame, we use European oak wood, which is hard, resistant to external influences, and ideal for the European climate;
For the inner layer, we use either finger-jointed solid oak panels, or especially for the production of doors we order the highest quality engineered solid wood panel made in Germany;
Quality is confirmed by 63,000 units. manufactured and installed interior doors.